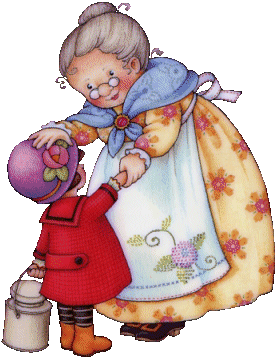 Grandma's Blankets
By Susan Y Nikitenko 2010
While Grandma's hands crocheted in grace;
Each blanket for her lovely ones.
She prayed the prayers that Grandmas do;
For family, friends, and all till done.
Each single stitch, She stitched in love;
She wrapped her gifts with fancy wrap.
With smile, she kissed each cheek that passed;
And hugged each one upon her lap.
And while each child tore paper way;
She'd smile a smile that shined to say;
I love you dears, you are my joy.
The blankets then became their play.
Bobby hid beneath the red one;
And Kristin Hid beneath the blue.
And cuddled sweetly with her doll;
Was the littlest one named Sue.
When bedtime came they all were tucked;
And faithfully each child obeyed.
Curled up in blankets stitched with love;
Each child took turns and sweetly prayed.
Grandma rocked, in her fav'rite chair;
With Bible stories on her knee.
And read to them, most ev'ry night;
And hugged and kissed them, faithfully.
A pretend story about love and prayer that has a true message. A message of faithfulness, faith and family.
In this poem Grandma lives with the family as a widow. She spends her time with the children teaching them valuable lessons and giving them memories that will last a lifetime. Let us not forget that choices do effect others no matter how old we get.



Poetry On This Site Can Be Freely Used For Christian Bible Centered Non-Profit Ministries And must Remain Unchanged In Any Way. All Other Purposes Are With Permission Only. You May Make Requests At "treasurebox18@yahoo.com" All my poems with stories are both real and fictional designed to illustrate a biblical truth. All Rights Reserved